Pseudorabies Virus (GB) PCR Detektioun Kit
Produkt Detail
Produkt Tags
Pseudorabies Virus (GB) PCR Detection Kit (Lyophiliséiert)
48Tester / Kit, 50Tests / Kit
Dëse Kit benotzt Echtzäit fluoreszéierend PCR Method fir de RNA vum Pseudorabies Virus (gB Gen) (PRV) a Gewësserkrankungsmaterial wéi Mandelen, Lymphknäpp a Milz a flëssege Krankheet Materialien wéi Impfung a Blutt vu Schwäin z'entdecken. Et ass passend fir d'Detektioun, Diagnos an epidemiologesch Untersuchung vu Pseudorabies Virus (GB Gen). De Kit ass en ALL-READY PCR SYSTEM (Lyophiliséiert), deen den DNA Verstäerkungsenzym enthält, d'Reaktiounsbuffer, spezifesch Primer a Sonde fir fluoreszent RT-PCR Detektioun noutwendeg.
Komponenten
Package
Spezifizéierung
Zutat

PRV PCR Mix

1 × Fläsch (Lyophiliséiert Pudder)

 

50Test

dNTPen, MgCl2, Primer

, Sonden, Taq DNA Polymerase

6 × 0,2 ml 8 gutt Sträifréier

(Lyophiliséiert)

48Test

Positiv Kontroll

1 * 0.2ml Rouer (lyophiliséiert)

 

10Tester

Plasmid oder Pseudovirus enthält PRV (gB) spezifesch Fragmenter

Léisung opléist

1,5 ml Cryotube

500uL

/

Negativ Kontroll

1,5 ml Cryotube

200uL

0,9% NaCl
(1) De Kit ka bei Raumtemperatur transportéiert ginn.
(2) D'Haltliewen ass 18 Méint bei -20 ℃ an 12 Méint bei 2 ℃ ~ 30 ℃.
(3) Kuckt de Label um Kit fir de Produktiounsdatum an de Verfallsdatum.
(4) De lyophiliséierte Pulver Versioun Reagens soll op -20 ℃ no der Opléisung gelagert ginn an de widderhuelte Gefrier -thaw soll manner wéi 4 Mol sinn.
GENECHECKER UF-150, UF-300 Echtzäit Fluoreszenz PCR Instrument.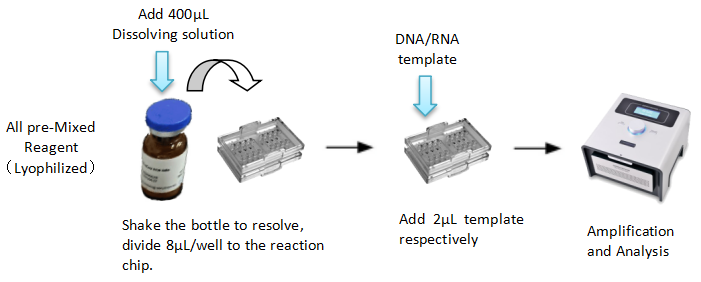 b) 8 gutt Sträif Tube Versioun: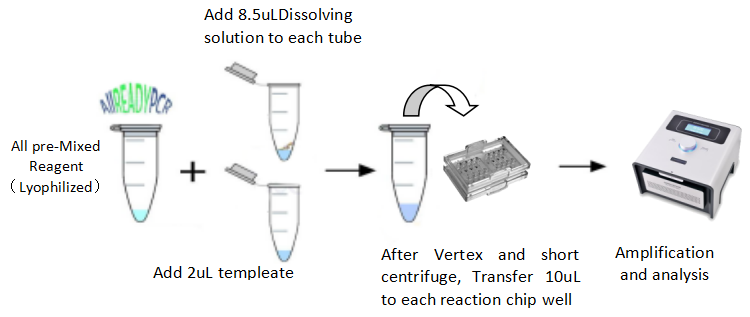 Recommandéiert Setting
Schrëtt

Zyklus

Temperatur (℃)

Zäit

Fluoreszenz Kanal

1

1

95

2min

/

2

40

95

5s

/

60

10s

Sammelt FAM Fluoreszenz
* Notiz: D'Signaler vu FAM Fluoreszenz Kanäl ginn op 60 collected gesammelt.
Interpretéiert Test Resultater

Kanal

Interpretatioun vu Resultater

FAM Kanal

Ct≤35

PRV (gB) Positiv

Undet

PRV (gB) Negativ

35<Ct≤40

Suspicious resut, retest*
*If the retest result of FAM channel has a Ct value ≤40 and shows typical "S" shape amplification curve, the result is interpreted as positive, otherwise it is negative.
---
---